DIY SOS: the big build will air tonight (23 May) at 9.00pm on BBC One.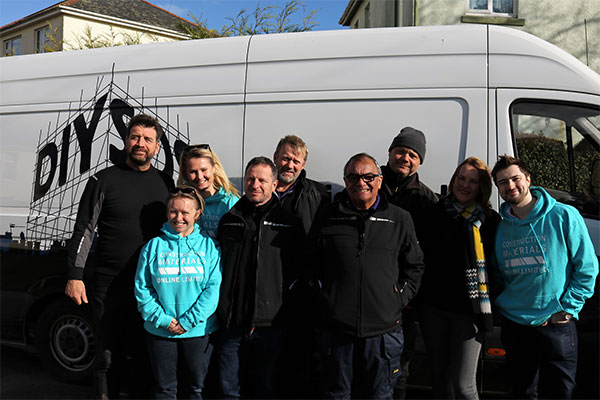 cmogroup.com got involved in the filming, helping a family in need by donating building supplies.
Members of the cmogroup.com team were invited to take part in the show's 'Big Reveal' in Torquay as a thank you.
Spending the day on set, they rubbed shoulders with Nick Knowles and his team.
They met the family whose house was transformed; Stuart who has Multiple Sclerosis, his fifteen-year-old daughter Lauren, and Grandma Lin who is completely blind.
Jack Knight said: "It was great to see the looks on their faces. They are such a deserving family who needed a boost of good luck.
"We knew we would be able to quickly find all the items on the shopping list from the BBC, and work with our suppliers to get high quality products.
"With a nine-day project like this, with volunteers and camera crews all working around-the-clock, it's vital supplies arrive in the right place at the right time.
"Our Drainage Superstore and Insulation Superstore teams went out of their way to help and we were proud to see the result."
Stuart's family home in Torquay was upgraded from a two to a three-bedroom house.
The project included a physiotherapy space, a wet room and brand-new kitchen and bathroom.
cmogroup.com donated both drainage and insulation products to the build from its community fund.
If you're in the trade and want a cmotrade account to get the best prices, rewards and rebates, it's quick and easy to join here.

https://www.cmogroup.com/wp-content/uploads/2019/05/featured-1.jpg
600
600
webteam
https://www.cmogroup.com/wp-content/uploads/2021/06/CMO-group-plc.png
webteam
2019-05-23 09:58:52
2019-08-13 10:55:48
DIY SOS airs tonight!