Saving the day in a Devon DIY SOS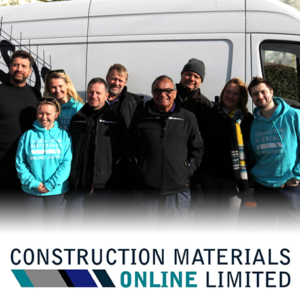 Construction Materials Online came to the rescue for a BBC DIY SOS programme, helping out a family in need by donating building materials to the project.
Members of CMO were invited to take part in the show's 'Big Reveal' on Thursday (15 Feb) in Torquay as a thank you for contributing to the build.
Spending the day on set, Clare Hearl, Accounts Assistant, and Jack Knight, Purchasing Officer rubbed shoulders with Nick Knowles and his team.
They met the family whose house was transformed; Stuart who has Multiple Sclerosis, his fifteen-year-old daughter Lauren, and Grandma Lin who is completely blind.
Clare Hearl, who spotted the request for help on social media, said: "It was absolutely wonderful to see the looks on their faces. They are such a deserving family who needed a boost of good luck, so when I saw what was involved I asked if we could help by donating some building materials."
Liz Orgill, Construction Materials Online's Director of Marketing, explained: "We knew we would be able to quickly find all the items on the shopping list the BBC gave us, and work with our suppliers to make sure they were right for the family.
"In any renovation or building project, it's vital that construction materials arrive in the right place at the right time and we know from experience, with a nine-day project like this – with volunteers and camera crews all working around-the-clock – it was vital to make sure the project went smoothly!
"Our Drainage Superstore and Insulation Superstore teams went out of their way to help and we were thrilled to see the results in the Big Reveal this week."
As part of the  BBC DIY SOS programme filmed in Devon, the family home in Torquay was upgraded from a two to a three-bedroom house and included a physio space, wet room and brand-new family kitchen and bathroom. Drainage and insulation products were donated by Construction Materials Online to help with the renovation project.