CMO Group's environmental campaign 'grows' from strength to strength
CMO Group, the UK's largest online-only retailer of building materials, has dug deep with its ambitious environmental campaign, raising over £22k and planting more than half of the 5,000 trees it has pledged to its local city of Plymouth.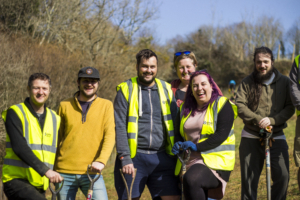 As part of the company's ongoing 'CMGrow' initiative, CMO has committed to planting 5,000 new trees, which is approximately two acres, over two years. With the majority of its £30k fundraising target already secured, the first 2,500 saplings are now taking root thanks to the support of CMO's colleagues and members of the local Plymouth community. Further support for the campaign has come from national charity Trees for Cities, which has partnered with CMO to help identify the local sites and bring its 'CMGrow' campaign to fruition.
Launched by CMO at the beginning of 2021, the campaign forms part of the company's wider commitment to its environmental, social and corporate governance responsibilities. The ambition behind the CMGrow campaign is also inspired by the company's desire to improve the air quality and natural landscape of Plymouth where its head office is based, whilst also reducing its own carbon footprint.
Two thousand of the trees have now been planted at Poole Farm in the north-east of Plymouth, a local farm that's focused on community involvement through health and wellbeing, education and conservation. The young tree whips were planted to form a mosaic of different forest habitats in the area. A further 500 trees have also been planted at the local Newnham Meadow Park.
Commenting on the CM Grow initiative, CMO's chief operating officer, Sue Packer, said:
"We operate in an industry where the need to reduce carbon emissions and become more energy-efficient is paramount and this awareness and desire to make a real positive impact runs through all our business operations. It's also the thinking behind our 'CM Grow' campaign which has been inspired by our commitment to helping to improve the local area around where we work and live.

"We are grateful for all the support so far and the fact that we are now able to see tangible results with the completion of our first planting season has been really exciting. We're not finished yet though, we're now focused on hitting out total target which will allow us to plant more trees and make an even bigger difference".
Rory Field, Corporate Partnerships Director at Trees for Cities, added:
"We're delighted to be partnering with CMO Group, who are helping to bring the multiple benefits of urban trees to Plymouth through planting 2,500 urban trees. These trees will play a key role in tackling poor air quality, supporting our urban populations' physical and mental health and helping create greener, happier and healthier urban communities for today's and future generations."
Alongside its own efforts, CMO has received support for the campaign from other local businesses as well as allowing customers to make donations when placing orders with the online builders' merchant. This is set to continue as the company looks ahead to raising funds to plant the next 2,500 trees and complete its very own forest!