Lindab Rainline Solutions: Keep Rainwater Simple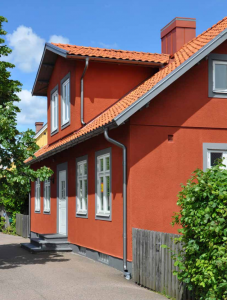 Lindab have a passion for simplifying construction and for over 50 years have introduced and developed products with that in mind. Most of all the Rainline rainwater system has grown to include innovative and clever products which provide solutions to specific problems.
The latest of these include the new RSKR radius gutter bracket and the Vandal range of reinforced downpipes.
Radius curve bracket puts Rainline ahead of the curve
The new RSKR bracket has been designed to provide a radius gutter solution to enable installation on curved eaves sections and balconies.
To achieve this the expert product development team have created a fascia bracket that also functions as a gutter joint with a rubber seal and a tolerance for a 4° alignment deviation at each joint.
The bracket is available in 13 Rainline finishes to fit 125mm gutters. Sections of standard gutters can easily be installed fitting to a radius in a faceted arrangement which will service a unique bow fronted building or convex feature without the need for expensive bespoke gutters.
Vandal proof products reinforce requirement for steel systems
The new Lindab Vandal range is a series of reinforced downpipes and outlets that have been designed for use in areas with a lot of foot-traffic such as school playgrounds or public car parks.
The downpipes are made of 2mm hot-dipped galvanised steel or 1.5mm stainless steel plate and have in-built stainless steel wall brackets and either a pipe shoe or a self-cleaning leaf trap with stainless steel filter.
The vandal-proof products can be installed on the bottom 2m of each rainwater pipe stack and easily connect to a standard Rainline gutter and upper pipe section using a simple BUTK drain shoe.
The range is available in 13 Rainline finishes with a 102mm diameter to fit to 75mm, 87mm or 100mm standard Rainline downpipes.