CMO supports architecture students' ambitious project
Construction Materials Online has supported a student project which allowed a striking and innovative pavilion to be erected in Cardiff University's campus.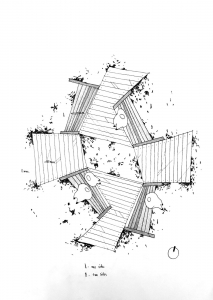 The pavilion, entirely designed and built by first and second-year students from the Welsh School of Architecture, was created using recycled, reused and donated materials. It was created by the 'Lost and Found' unit as part of Vertical Studio, a period of project-based work on the BSc Architecture programme.
Construction Materials Online, with support from supplier Ariel Plastics, donated Coroline corrugated bitumen roof sheets for the roof structure.
Liz Orgill, Marketing Director at Construction Materials Online, said: "We take our responsibility to support and inspire the future generation of construction professionals seriously, so are pleased to support live briefs like this which help students put their studies into practice.
"We loved seeing the photographic documentation of their creative process, the build, and learning along the way. They've designed a pleasing and strong structure which will encourage visitors to interact with it."
The brief was to create a structure that would attract the attention of the public, potential employers, and students, and to represent the Welsh School of Architecture.
Roshni Patel, 22, a student at Welsh School of Architecture at Cardiff University and spokesperson for the group, said: "The aim of our pavilion was to advertise the school's annual summer show that showcases the work of the students to the world.
"Our work is not only focused on the digital and drawn, but also on 'hands-on' making and this is what we wished to show through a pavilion built by the students themselves. We believe we achieved this and had great fun doing so, and couldn't have done this without the materials donated to us by all our sponsors, particularly Construction Materials Online. It helped us to achieve our aims whilst learning to build, project manage and experience architecture in a very tangible way, and hopefully take on similar projects like this in the future."
The 'Lost and Found' pavilion will be on display in the Bute Building at Cardiff University until 17 July 2018.
To find out more about studying architecture at Cardiff University, visit www.cardiff.ac.uk/architecture.