Atlas Sales Go Through The Roof
Atlas Glazed Roof Solutions is well on course for its best year yet after turning in a phenomenal performance last year. The aluminium conservatory and lantern roof fabricator marked year on year growth of 93% and also toasted to its Atlas roof, the fastest growing conservatory roof system in the UK in 2015.
Sales of the company's range of conservatory roofs, lanterns and rooflights have virtually doubled in the last 12 months.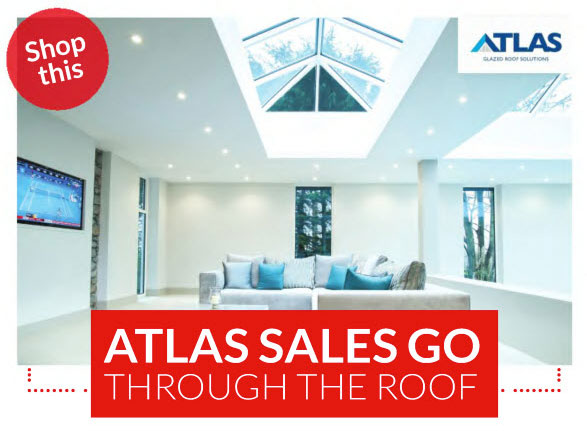 Gareth Thomas, Sales and Marketing Director at Atlas Glazed Roof Solutions, explains: "We are absolutely delighted with how the business has performed, with record sales and healthy year on year growth which is showing no signs of slowing down. We've worked hard to develop a business formula that meets the needs of trade and domestic customers alike. As a result, we're taking on at least 30 new installers every month and the Atlas brand of ultra-slim profile contemporary roof products has a growing presence among the homeowner."
With its 40mm roof frame, the Atlas aluminium roofing system delivers contemporary style, unrivaled aesthetics and outstanding thermal performance. Designed to give the homeowner supreme aerial views, the Atlas roof boasts 70% lower sight lines than alternative systems to ensure that it is unobtrusive from the outside, whilst maximising the sense of space and light on the inside.
Atlas will be launching exciting new product innovations this year, helping the company to maintain its position as the leader in slimline aluminium conservatory roof design.