Tiny homes case study: From a box van to an eco-friendly mobile home
With a passion for travelling and a love of 'tiny homes', Louise Watts took on the project of a lifetime when she bought a Luton Box Van with the goal of turning it into a mobile home fit for purpose. Armed with a vision of a cosy, rustic mobile home, Louise turned to Insulation Superstore to help bring her unique design to life.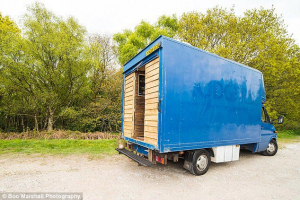 Turning a dream into a reality
With sales of motorhomes rising over 20% since last year, the UK's love of camper vans and touring is a trend which is showing no signs of slowing, as more people look for cheaper holidays in a 'home away from home.' In a quest for freedom and new experiences, Louise Watts – a freelance graphic designer with a passion for travelling – decided to go one step further and construct her own fully functional, eco-friendly, bespoke mobile home from an old Luton Box Van.
Commenting on the draw of the project Louise said: "I have always liked the idea of tiny homes, and a few years ago I wanted to build a cob house in Europe, but when Brexit happened that idea was put on hold. When I was researching different projects on YouTube, videos of converted vans kept popping up and it instantly had appeal – especially as it was mobile, allowing me and my partner to indulge in our love of travelling."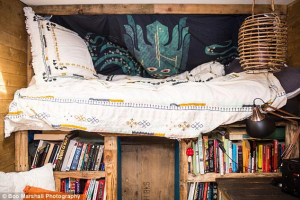 A construction novice and with just a few months of research under her belt, Louise purchased a Luton Box Van in September 2016, with a clear vision of how it would look. Her designs included a kitchen, bedroom above the cab area, a shower, solar panels, a wood burner and oven. "I wanted it to look as natural as possible and rustic, whilst being kind to the environment – so avoiding materials such as plastic. But it also needed all the amenities a normal mobile home would have, as well as a few added extras!" said Louise.
However, the van had a unique curved design with a roller shutter, which threw up some problems. "It was a project not to be undertaken lightly and one which truly flexed my creative mind," said Louise. "It was a constant battle between cost and weight – it couldn't exceed 3.5 tons. We had set an initial budget of £6,500, which included the van. But I firmly believe in buying once, and buying well!"
Having never even picked up a drill, Louise's knowledge of the building industry was minimal, but she found company in online forums such as the Self Build Motor Caravanners Club (SMBCC), where many people discussed their own self build caravanning projects. "A lot of the people I spoke to had faced similar problems and issues and had some really amazing advice. It is difficult working on a project where there are no strict rules!" adds Louise.
Turning to the Experts
One of the biggest problems Louise faced was insulation, with the roller shutter making it difficult for the van to conserve heat, whilst also ensuring any materials did not take up too much space or weight. During her research online, Louise eventually found Insulation Superstore (ISS) and its Brand Manager Duncan Voice, who offered advice and guidance on what materials would work.
As one of the largest online merchants, Insulation Superstore is supported by a trained customer service team, on hand to offer expert advice without the sales pitch. "Duncan really took an interest and paid attention to the project, and in the end it felt like we were bouncing ideas off each other" said Louise.
Duncan said: "It was such a unique project, but is really no different to doing a normal room – each starts with four walls! Things got interesting when we tried to find solutions which didn't eat into the limited space, as well as finding those which would work in the curved area of the van. We also needed materials which fit with Louise's natural design, whilst not compromising on thermal performance. Consideration also needed to be given to lightweight products to prevent the van from becoming too heavy. I tried to think of it as a loft on wheels!"
The Insulation Winners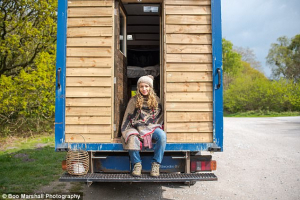 With Duncan's guidance, Louise eventually used Celotex TB4025 for the main walls, which is only 25mm thick, has excellent thermal values and the added benefit of its foil facing acting as a vapour control layer to help tackle the potential issue of condensation.
Supaloft's Non Itch Quilt was used around the cab area (also the bedroom), made entirely from recycled plastic it is incredibly soft with no irritating fibres. "It is flexible so would be easy to form and fit to the curvature of the cab area, with the added benefit of acting as an impromptu bed for the local cat – Smeagol!" adds Duncan.
However, certain elements of the original design had to be sacrificed, including Louise's desire for Sheep's Wool – an environmentally friendly insulation material made from a combination of natural and recycled fibres. "Whilst it is a material which has excellent thermal properties, there was a concern that if placed next to the van's metal walls and frames it would have caused rusting. It absorbs up to 30% of airborne condensation, but with the metal framing and no real ventilation, there would be nowhere for it to go," said Duncan.
Above and Beyond
In addition to the vast selection of products available at Insulation Superstore, Louise states that the customer service provided by Duncan and the team proved invaluable, saying: "I felt like we were working together on a shared project. There was no pressure to even buy materials, and Duncan spent weeks recommending different products, sending samples and communicating via email before anything was purchased."
Duncan adds: "This is by far one of the most interesting projects I have been involved with and certainly tested my creativity and imagination. The great thing about working in eCommerce is that no two days are the same. Recently, I assisted a laboratory which was performing experiments on plants in water tanks and needed polystyrene insulation for these to float on!"
The Finishing Touches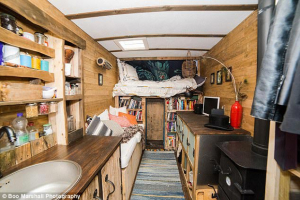 Louise completed the renovations to the camper van in February 2017, marking only five months since purchasing the box van – an impressive achievement for someone with no previous build experience. Going slightly over the initial budget, the final cost of the full renovation came in at around the £9,500 mark, however Louise says: "In the end it is about quality and buying well. The van is an extension of our home, and seeing as we plan to take it to some far-flung destinations, we need to be sure it lasts!"
Key features of the van include solid oak stained kitchen surfaces, a natural stone sink, bees wax iron forged handles, plank flooring and the all-important wood burner. "For anyone looking to undertake a similar project – no matter how unique – I wouldn't hesitate in recommending the guys at Insulation Superstore, who were with me every step of the way."