A Scotman's Home Is His Chapel: First-Time Homebuilder Tops Out with Eco Slate from Roofing Superstore
With a growing trend towards online retail in the construction industry, we look at how one homebuilder had the confidence to take on his first build.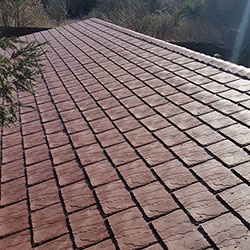 An Englishman's home is his castle but, in this case, it's fairer to say a Scots man's home is his chapel. Originally from Fife in Scotland, retired Hospital Chaplain and former Engineer, Vic Davidson, is building his first home at aged 66. Up until his retirement last year, Vic and his wife, Lilian, resided in Essex.
Roof over their heads
In 2015, for the first time in more than 30 years, the couple found themselves needing a roof over their heads. But, they didn't want any old roof! Vic is committed to building a home with a low carbon footprint (as far as building regulations will allow) with its crowning glory being its environmentally friendly roof. In order to save money and be closer to family, Vic and Lilian decided to build on a plot of land at the back of their daughter's home in Sutton-in-Ashfield, a market town in Nottinghamshire.
No experience necessary
Despite having no previous experience in homebuilding, the couple chose to do the hard work for themselves, enlisting the help of their entire family along the way. Vic explains: "A local haulier was kind enough to loan us his mini digger but we had to dig a lot of the foundations by hand. We shifted a total of 240 tonnes of earth between us."
The personal homebuilding project, which Vic affectionately refers to as the "Granny Annex" is a traditional cavity wall property, albeit with some green credentials. The property comprises one bedroom, a living and kitchen area and a bathroom and sits within the green belt.
Sourcing construction materials online
Taking up temporary residence in a motor home for the duration of the build, the couple are relying on Vic's pension to fund the project. Spending on the build as and when money is available, Vic and Lilian are naturally keen to get a good deal without compromising on quality.
At the start of the build, Vic took the more traditional route of visiting large builders' merchants, as well as independent local traders, to try to source the preferred materials for the project. However, he soon recognised that there were major benefits to shopping for construction materials online.
He explained: "There's greater choice to be found online, prices are often lower and delivery quicker. If I was starting the build over again I'd shop online from the very start." Vic sourced Eco Slate tiles for his environmentally friendly roof from Roofing Superstore. The slates, made from 100% recycled plastic materials allow roofers, or in this case a self-builder, to install tiles with the look and feel of slate faster and more economically. The product is also known for its strength and pliability. Vic explained that even the Building Inspector was not familiar with Eco Slate and took a real interest in the product.
"Roofing Superstore has an excellent user-friendly site", explained Vic. "I was impressed with how quick the initial sample and then the final product arrived. Speed of delivery is particularly important in the Midlands where the weather is unpredictable. I needed to get my home weatherproofed before the next bout of rain", he added.
Topping out
Vic has finished installing Eco Slate, specified in Old World Red (an alternative to Cumbrian slate), and is currently working on the guttering. With topping out complete, the couple are also turning their attention to the internal walls. They hope to move in before the summer and we hope that life in their new home, which they plan to name 'Taigh Solais Beag', Scot's Gaelic for 'Wee Light House', will be nothing short of heavenly.